About Us
Dancing Shiva has been established as a company since 1994 and in the Neubaugasse since 1996. First floor, then two-storey and finally three-storey.
Where before was a damp cellar vault, a resurrected business, and an abandoned tax chancery, a colorful, imaginative and life-long parallel world filled these spaces. This little parallel universe called "Dancing Shiva" is the fulfillment of our dream to create a space for honest and holistic products, philosophies and way of life, which enrich and embellish our lives and our customers on every level.
Our History
We started on the ground. Or rather, under a Tent where we, Riki, Martin and our daughter Nina, sold products at art festivals we had brought from our first trip to India in 1993.
When, after a while, the souvenirs came to an end, and we concluded that this pastime could be a profession, it was not long before the next trip to India, and a little later we set up a market stand.
1994 We started with the search for a business to bring India's colors and fragrances to the people. We found a shop in the 8th district, named after the Indian god of creation, destruction and rebuilding "Dancing Shiva" and filled it up to the ceiling with Indian craftwork, textiles and fragrances.
1996 Riki discovered a resident business location in Neubaugasse 58. With which we quickly took our seven things, moved out of the 8th district and moved into the small house in the Neubaugasse. Not only did we expect a business center to be renovated, but also a damp basement, a resident tax office and a free apartment in the back of the house – perfect! In the next few years, we were busy drying the cellar, breaking into the first floor, and setting up ourselves in the Neubaugasse. The basement became the beautiful, oriental-looking and at that time still known as "Chaihaus". The former tax bureau on the first floor was turned into a dark red palace of fragrances and colors. And the once one-storey Dancing Shiva had suddenly tripled.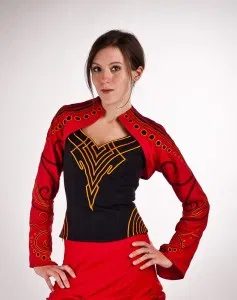 1999 we slowly got bored with the ever-equal supply of Indian market goods. In addition, over the years, we had had to look at how this often was produced under inhumane circumstances. And since we wanted to offer something new and extraordinary – and most importantly – fair and honest from the very beginning, we started our own fashion line for women and men from the handmade and fairly traded Khadi-Cotton we recently discovered on a trip to India. Riki took over the design of the collections, as she had autodidactically adapted the craft of fashion design.
Our trips to India now increased to twice a year and from now on we did not only buy goods – we produced them, exclusively for our shop.
2005 we fled the big city of Delhi, where we had previously made our Khadi collections and founded our first own tailoring facility with ten Nepalese tailors in Goa / South India.
Within 2 years our team grew to more than 20 tailors and our product range now also included accessories and home textiles in addition to the women´s, men's and children's collection. Despite the increase, we still produced exclusively for our store in Vienna to keep the quality as high as possible.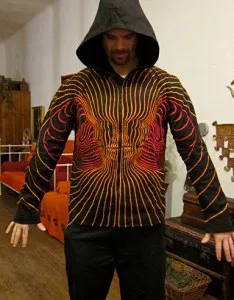 2009 Riki flew into the complete opposite direction than usually and landed on a two-month trip through the United States. Inspired by her dream of finally getting to know two of her greatest sources of inspiration, she first went to Canada for a creative workshop with Alex Grey, a highly regarded visionary artist in the USA, where he was the first to tie ties and to discuss the possibility of a textile-artistic cooperation.
Afterwards, Riki set off on the second fixed point of her journey: a visit to Jerome, Arizona, where a certain Maynard James Keenan, better known as the singer of Riki´s worshipped American rock bands Tool and A Perfect Circle, and as a contrast program to the Rockstar existence runs his own wineyard. And here, too, Riki, with her fancy Khadi designs, set the ball rolling and promptly became hired as the designer for the next merchandising collection of Keenan's third band Puscifer.
Shortly afterwards, Alex Grey made a stopover on his performance tour of Europe in Vienna and visited Riki at Dancing Shiva, where the first prototypes of a "Khadi Special Edition for Alex Grey" were discussed and considered. In 2010 the Khadi jacket "Interbeing" went online in Gray's webshop and was sold out within a few days.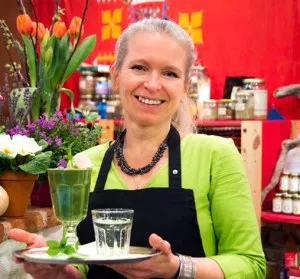 2012 A change took place in the Dancing Shiva Cosmos: After Riki, who was at the time at the end of her powers due to stress, read the book Superfoods by David Wolfe and was completely inspired by the effect of these most energetic and nutritious foods in the world, she wanted to share her experience with the Superfoods. In the autumn of the same year, she opened Vienna's first superfood shop in the known as "Chaihaus" – basement of Dancing Shiva, gave lectures and workshops on the subject and looked forward to the future with unprecedented enthusiasm and optimism.
Once again, as with Khadi, she had come across something that was almost unknown in Austria, and she spent the following months drawing people's attention to the concept of superfoods. Eventually she came to the conclusion that as something could be explained well, but one only really noticed the effect of the Superfoods once they were tried.
And so Riki, who out of hereditary reasons always had a taste for gastronomy, extended the Superfood Shop with a small bistro area, where she spoiled her guests together with her team of Superheroes with energizing raw cocoa elixirs, nutritious super smoothies and vegan dishes in raw food quality and the 10 Superfoods so for everyone to directly experience.
2013 something unexpected happened. Due to massive increases in the raw material and work sector of India, we were unfortunately forced to cease our Khadi production in Goa, since we could not continue to produce in the usual quality without having to make significant price adjustments. And since we do not want to compromise on the quality or the sustainability of our products, we had to separate ourselves severely from this long-standing project.
But it is well known as follows: If one door closes, another opens. So in the months that followed, we focused all our love and energy on another heart project: The Superfoods.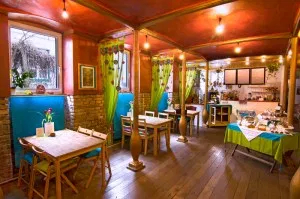 2014 was another turning point in the history of our company. At the end of 2013, Riki, after experimenting in the kitchen for months, decided that the tables in the local area of the Superfood shop were more and more occupied, and that her guests became more and more numerous that the time had come to expand the project "Superfoods". Dancing Shiva, known for its colorful colors, exotic fragrances and its wide range of fair-tradeed Khadi fashion, reinvented itself completely. In April 2014, Riki opened Vienna's first Raw Food Restaurant, focusing on the world's strongest and most nutritious food: Dancing Shiva Superfoods.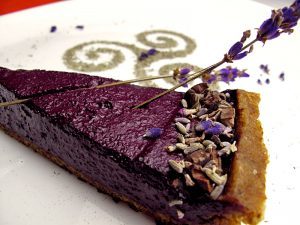 From supersmoothies, raw cocoa elixirs, sinful sweets and exotic delights to traditional Austrian dishes – the Superfood restaurant showed what is possible in the raw food kitchen.
With the opening of the restaurant, Riki fulfilled her dream of creating a space where "we pamper our guests not only culinary, but also ensure that they are back on their way fortified, happy and full of energy."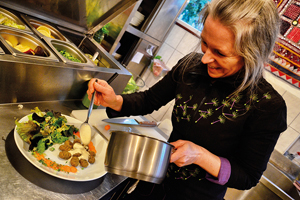 2017 After three wonderful but also demanding years, a decision was made that changed some things at Dancing Shiva again. After dealing with the tough reality of gastronomy, including the jungle of restrictions, labeling harassment and other pitfalls of domestic bureaucracy for three years, we had reached a point where our originally idealistic concept had become a Gastronomy monster overlaid with stress, pressure to perform and compromises. Unfortunately, the system in which we live does not allow us to work in a relaxed manner in harmony with ourselves and our environment, but keeps us caught on an extremely short leash in the hamster wheel of profitability. For example, instead of lovingly preparing unique dishes, we were forced to work on the assembly line in our daily restaurant operations and certainly did not have the time to familiarize our guests with the concept of superfoods and raw food.
Since this was the exact opposite of what we actually wanted to pass on – namely information and inspiration – in September 2017 with a heavy heart, we pulled the emergency brake and closed the restaurant.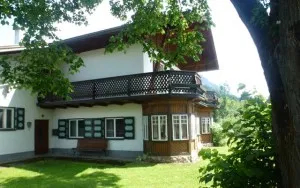 The new, more relaxed concept returns to the informative character – the heart of Dancing Shiva – in the form of lots of workshops with Riki in Vienna and our new Raw & Wild Retreat Center in Mariazell. Pausing, reorienting, back to mother nature and self-empowerment are our topical issues, which we can now live and pass on with full motivation and enthusiasm.
While Riki leads the workshops and retreats in Vienna and Mariazell, collects wild herbs in the surrounding area and inspires others for wild, raw and wholesome health food, Riki's daughter Nina continues to manage the Superfood Shop in Vienna as the central point of contact for the highest quality and selected superfoods, adaptogenic herbs, raw food products and homemade delicacies.
Whatever the future brings to new discoveries and twists in the Dancing Shiva cosmos, we are looking forward to seeing them together with our friends and customers!
All the Best,
Riki, Nina & the Dancing Shiva Superfoods Team