Dancing Shiva – The Shop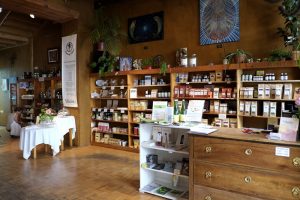 In our shop you will find Vienna's largest selection of superfoods and superherbs in selected premium quality. We attach particular importance to the traceability and quality control of the products. Thus, for each product, upon request, a current analysis certificate is available that confirms purity and nutritional value. We source our goods from family-run companies from all over the world.
In addition, you can expect a wide range of food and delicacies in vegan raw food quality, fresh tree-ripe fruits & vegetables, products for detoxifying and purifying, natural supplements and lots of sweet and savory treats. Our range is rounded off by fine natural cosmetics as well as our exclusive brand for natural perfume "Moss & Fern Botanicals".
On the 1st floor of our shop, since October 2017, you will find the HEMPIRE, your specialty store for fashion, cosmetics, food, CBD products and accessories from the world's fastest growing raw material: hemp.
More about: www.hempire.eu
If you would like to convince yourself on site of the quality of our products, we cordially invite you to visit us in our shop in Vienna! Apart from the carefully selected product range, you will also find daily freshly prepared raw food snacks, smoothies and cocoa elixirs. Our team of nutrition informants and herbal specialists is looking forward to your visit and will be pleased to advise you!
Here we are: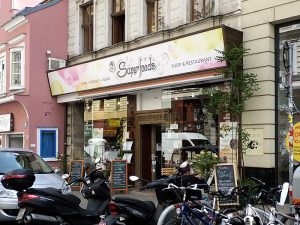 Dancing Shiva Superfoods
Neubaugasse 58
1070 Wien
Tel: +43 1 524 78 43
Mail: superfoods@dancingshiva.at
Monday – Saturday 11:00 – 17:00
Owners of a V-Card or AnimalFair-Card get 5% off everything!
More info here:
www.vegan.at/inhalt/veganat-card
www.animalfair.at/vorteile-fur-mitglieder/
We are looking forward to your visit!
Your Dancing Shiva Team
---
SUPERFOOD TO GO
Fast snacks in vegan raw food quality on the go, in between and at all!
The lunch break is usually far too short and the food selection similarly small – sometimes it is quite difficult to find a quick alternative to sandwiches, pizza and kebab in the middle of the urban jungle. But these times are over now – at least here!
In our TAKE AWAY CORNER you will find a daily fresh selection of vegan raw food snacks, ready for your healthy break:
SALADS / RAW DIPS & SPROUTED BREADS / VEGAN RAW DESSERTS
POWERSMOOTHIES / HOMEMADE KOMBUCHA / VEGAN SHAKES
Also discover our monthly Raw Brunch Buffet!
---
RAW
Nothing is cooked, baked or roasted in the raw food kitchen, but gently prepared at a maximum of 42 ° C.
So all the valuable nutrients are preserved, nasty trans fats have no chance to form and Mother Earth's gifts land on your plate as planned by her: alive, aromatic and full of energy.
NATURAL
Industrialized foods such as table salt, white flour, refined sugar and flavor enhancers don´t belong in our kitchen. We sweeten with honey or coconut blossom nectar and we season with fresh herbs, spices and crystal salt.
Our lovingly prepared food and drinks should not only sweeten the day, but also ensure that you continue your jouney strengthened, radiant and full of energy.
Good appetite
the team of Dancing Shiva Superfoods