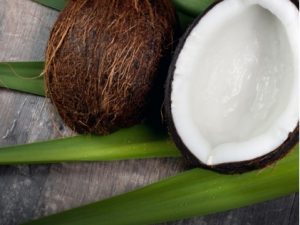 COCONUT CREAM PREMIUM QUALITY ORGANIC & RAW

Raw food quality, extra nativ

The Coconut Palm is a prehistoric plant that can grow up to 30m in height, carrying gigantic feathery leaves and supposedly native to the Phillipines. Today you can find coconuts in almost all tropical areas.
In Sanskrit, the coconut is named kalpa vriksha , which means "the tree that offers everything you need to live".
Coconut is the freshly pureed pulp of ripe coconuts. It tastes wonderfully exotic, melts on the tongue and gives sweet as well as hearty something extra. The treat is a true immune booster, because coconut contains all the healthy ingredients that we already know from coconut oil. No wonder that coconut meat has now conquered a regular place in every modern kitchen. Even vegans, vegetarians and raw foodists swear by the healthy Fitmacher.
In addition to the precious coconut oil our coconut also contains the valuable fiber from the fibers of the pulp.
The key features of the coconut
Medium chain fatty acids – Medium chain fatty acids in coconut oil have antiviral, antimicrobial and antifungal properties. They disrupt the lipid membranes of viruses, bacteria, yeasts and other fungi.
Medium chain fatty acids require less energy and enzymes during digestion. Many people who suffer from indigestion, especially liver or gall bladder problems, may benefit from consuming coconut oil instead of other oils.
Cholesterol & amp; Pregnenolone – Most information circulating about saturated fats and cholesterol in the media is wrong. Coconut oil contains practically no cholesterol and even helps to normalize the cholesterol level in the body. In this context, it also proposes olive oil.
The harmonizing effect of coconut oil on our cholesterol level is related to its ability to stimulate the thyroid gland. When sufficient thyroid hormones are present, cholesterol is converted into important anti-aging steroids, progesterone, DHEA and pregnenolone by enzymatic processes. These substances are important for the prevention of heart disease, senility, obesity, cancer and other diseases related to aging and degeneration. Pregnenolone is also a precursor of many hormones including progesterone. Pregnenolone improves blood circulation in the skin, tightens the skin, renews sagging skin and reduces bags under the eyes, counteracts laxity, improves memory, protects nerves from stress and has anxiolytic properties.
Regular consumption of coconut products can restore thyroid function and stimulate the metabolism, helping to get rid of excess weight more easily.
Application :
The raw-delicious coconut cream tastes pure, cold and warm. Only searing should be left to our Premium Organic Coconut Oil as it is more heat resistant. Try the coconut cream on a slice of bread or ennoble vanilla ice cream with coconut cream and fruit. Refine your desserts, wok and stir-fries, milkshakes, smoothies and drinks, sauces, curries and soups with the premium organic coconut by Oil mill Starlinger. Use coconut cream instead of canned coconut milk – just mix with the desired amount of water (depending on how thick the milk is to be) and use it just like coconut milk!
For the production the entire components of the coconut are used and gently milled. In this way, all valuable ingredients such as vitamins, proteins, fiber and carbohydrates of the plant are preserved.
The coconut cream from Starlinger oil mill is made in Upper Austria from singalese fair-trade organic coconut flakes at temperatures below 40°C. This creates a product in ECHTEREALR raw food quality. For comparison: in ordinary oil presses, the temperature rises up to 70°C. The resulting oil may still be declared as "cold pressed", but has nothing to do with real raw food quality.
Ingredients:
100% pure organic coconut from Starlinger oil mill, REAL raw food quality, extra native (pressed at below 38°C), fair trade, unrefined, not deodorized, not hardened, not bleached.
Average nutritional value per 100g:
Energy 2787 kJ / 677 kcal
Fat 64.6 g
– Of which saturated fatty acids 60.8 g
Carbohydrates 7.7 g
– Of which sugar 7.4 g
Fiber 17.3 g
Protein 7.6 g
Salt & lt; 0.1 g
Legal Disclaimer:
Due to the current food labeling law, we are unfortunately not allowed to make specific statements on the effect and possible health benefits of this product. Although this product has been traditionally used for a long time, we must not share our knowledge with you, sorry we are.
However, as a mature consumer, you have the option of independently researching this product in books and the internet. See links for a list of selected informational pages and textbooks. Thank you very much for your understanding!