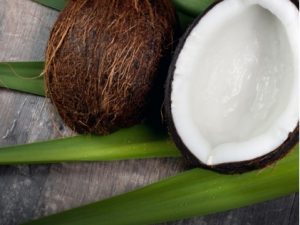 PREMIUM COCONUT OIL ORGANIC & RAW

Raw food quality, extra nativ

The Coconut Palm is a prehistoric plant that can grow up to 30m in height, carrying gigantic feathery leaves and supposedly native to the Phillipines. Today you can find coconuts in almost all tropical areas.
In Sanskrit, the coconut is named kalpa vriksha , which means "the tree that offers everything you need to live".
Coconut oil is pressed from the hard flesh of ripe brown coconuts. It has been used as food and medicine since the beginning of history. In Ayurveda and the medical system of Polynesia, the therapeutic and cosmetic properties of coconut have long been championed. By weight, coconut oil contains fewer calories than any other fat. Unlike the high-calorie and long-chain saturated fats in meat and dairy products, coconut oil consists of raw saturated fats with mostly medium-chain fatty acids that the body can efficiently utilize and quickly convert to energy.
The key features of the coconut
Medium chain fatty acids – Medium chain fatty acids in coconut oil have antiviral, antimicrobial and antifungal properties. They disrupt the lipid membranes of viruses, bacteria, yeasts and other fungi. People who suffer from candida and other fungal infections can benefit from coconut oil. Some forms of psoriasis are actually inflammations caused by fungi in combination with calcium-forming organisms. These inflammations can be improved by the external application of coconut oil.
Medium chain fatty acids require less energy and enzymes during digestion. Many people who suffer from indigestion, especially liver or gall bladder problems, may benefit from consuming coconut oil instead of other oils.
Cholesterol & amp; Pregnenolone – Most information circulating about saturated fats and cholesterol in the media is wrong. Coconut oil contains practically no cholesterol and even helps to normalize the cholesterol level in the body. In this context, it also proposes olive oil.
The harmonizing effect of coconut oil on our cholesterol level is related to its ability to stimulate the thyroid gland. When sufficient thyroid hormones are present, cholesterol is converted into important anti-aging steroids, progesterone, DHEA and pregnenolone by enzymatic processes. These substances are important for the prevention of heart disease, senility, obesity, cancer and other diseases related to aging and degeneration. Pregnenolone is also a precursor of many hormones including progesterone. Pregnenolone improves blood circulation in the skin, tightens the skin, renews sagging skin and reduces bags under the eyes, counteracts laxity, improves memory, protects nerves from stress and has anxiolytic properties.
Regular consumption of coconut products can restore thyroid function and stimulate the metabolism, helping to get rid of excess weight more easily.
Coconut oil in skin care – Coconut oil is a great body oil. Its medium-chain fatty acids naturally help to keep unhealthy, toxic bacteria out of the skin while ensuring an ideal skin environment for friendly organisms. This leads to beautiful, healthy, soft and youthful skin. Coconut oil can be applied to almost all areas of the skin, except for the fine-pored skin of the face and scalp. It reverses the process of tissue damage by removing sticky, heated oils from the tissue and delivering fat-soluble vitamins, minerals and special super nutrients (especially pregnenolone) directly into the damaged tissue.
Coconut oil has been used as a skincare product for thousands of years. It is ideal for dry, rough and wrinkled skin. Being mainly composed of medium-chain fatty acids, it is quickly absorbed by the skin. It prevents stretch marks and reduces existing ones. It is an excellent lip balm. Its antiseptic elements keep the skin young, healthy and largely free from infection.
The coconut oil from the Starlinger Ölmühle is pressed in Upper Austria out of singalesian fair-trade organic coconut flakes with a cooled hand press at temperatures below 40 ° C. This creates an oil in REAL raw food quality. For comparison: in ordinary oil presses, the temperature rises up to 70 ° C. The resulting oil may still be declared as "cold pressed", though it has nothing to do with actually being pressed cold.
Ingredients:
100% pure organic coconut oil from the Starlinger oil mill, REAL raw food quality, extra virgin (pressed at below 38 ° C), fair trade, unrefined, not deodorized, not hardened, not bleached.
Application :
Coconut oil can simply be eaten or mixed in salad dressings, smoothies and all other drinks. The recommended daily amount is 1-4 tablespoons (a therapeutic dose is at least 3 tablespoons). Coconut oil is extremely stable and oxidizes much slower than unsaturated oils – it can be stored for up to 2 years when properly stored (cool, dark and dry). Research suggests that coconut oil doubles the body's ability to use antioxidant omega-3 fatty acids. For this reason, the intake of omega-3-containing oils (linseed oil, hemp oil, etc.) is recommended along with coconut oil.
Coconut oil is ideal for cooking, frying, baking and frying. It is the most heat resistant of all known oils and butter types (up to 77 ° C). Unlike unsaturated oils (safflower oil, corn oil, olive oil, etc.), coconut oil does not form polymerized oils or dangerous trans fatty acids when heated because it is a fully saturated oil. The coconut taste decreases when heated, so it is not only suitable for Asian cuisine 😉
Average nutritional value per 100g:
Energy 3441 kJ / 837 kcal
Fat 93 g
– Of which saturated fatty acids 88 g
Carbohydrates 0 g
– of which sugar 0 g
Protein 0 g
Salt 0 g