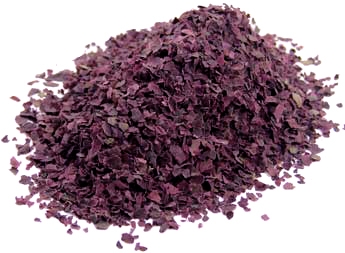 DULSE FLAKES 125g ORGANIC & RAW

Raw food quality from certified organic farming on the Irish coast
Dulse is a red algae with a mild-spicy aroma, which can be prepared similar to leafy vegetables. It is rich in trace elements and vitamins. Dulse can be used in salads, soups, pastas and other creative dishes.
It became best known worldwide through the books and recipes of Anthony William aka Medical Medium.
2.8 g Dulse algae are equivalent to 100% of the recommended daily intake of iodine of max. 50 μg / day.
By prolonged soaking (30 min.) Including water change or cooking, the iodine content can be significantly reduced.
Usage:
The Dulse flakes can be used in smoothies, dressings, salads, soups, stews and Asian dishes.
Average nutritional value per 100g:
Energy 703 kJ/ 168 kcal
Fat 1,4 g
of it ges. fatty acids 0,3 g
Carbohydrates 21,8 g
of it Sugar 4,9 g
Fiber 28,9 g
Protien 17,2 g
Salt 3,9 g
Jod (3500% NRV*) 18 mg
*Nutrient reference value according to EU regulation.
Contents:
100% Dulse Flakes (Palmaria palmata) from certified organic farming / Ireland
Notice:
Dietary supplements are not a substitute for a balanced diet and a healthy lifestyle. The specified amount of consumption must not be exceeded. Keep cool, dry and out of the reach of children!
*Legal disclaimer:
Due to the applicable food labeling law, we are unfortunately not allowed to make specific statements on the effect and possible health benefits of this product. Although this product has been traditionally used for a long time, we must not share our knowledge with you, sorry we are.
However, as a mature consumer, you have the option of researching this product independently in books and on the Internet. See links for a list of selected information pages and textbooks on the topic. Thank you very much for your understanding!