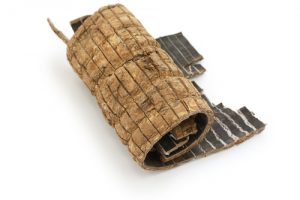 EUCOMMIA EXTRACT POWDER 10:1 – 50g refill bag

This product is also available in a glass jar.
Eucommia ulmoides
ENERGY | DETOX | FLEXIBILITY

The Eucommia bark belongs to the adaptogenic substances, has been known in Chinese herbalism for 2500 years and is recommended as Yang and Yin-Jing tonic. The active ingredients contained in the bark of the latex tree are said to help with musculoskeletal problems, relieve back pain and maintain the flexibility of muscles, tendons and ligaments. In TCM, Eucommia is used in particular for the kidneys, the liver, the hormone system, healthy sexual functions and healthy bone and muscle growth.
Healing rubber tree
Eucommia Bark is peeled from trees that are ten years or older. A small batch of the bark is peeled off the tree each year so as not to harm the tree, which can grow to be over a hundred years old.
Inside the bark is a pure white latex. Eucommia is the only temperate zone rubber tree. This latex is noticeably elastic. If you gently break a piece of Eucommia Bark and stretch it slightly, the latex will stretch. This rubber is believed to confer strenght to connective tissue and is considered to be part of Eucommia´s active ingredients.
Yang Jing Power for kidneys and physical structures
Eucommia is the primary plant source in Chinese herbalism used to tonify the yang jing functions of the kidneys, in particular as it affects the lower part of the body and the skeletal structure. Eucommia is a superb yang jing tonic and also nourishes yin jing. Because it provides both yin and yang, it is good for men and women alike and can be used by almost anybody to promote endocrine system and sexual functions, to enhance normal growth, to promote healing, and to strengthen the physical structure and resistance.
Eucommia´s first fame is in its kidney-tonifying effects. it is the primary herb in chinese tonic herbalism for building a strong, sturdy, flexible skeletal structure. It is used to strengthen the bones, ligaments, and tendons and can be used to help mend damage to these tissues, whether the damage is due to stress, age, or trauma. Eucommia is also the primary herb of choice for lower back and knee problems, including pain, stiffness, dislocation, swelling, and weakness. Eucommia is one the few herbs in Chinese tonic herbalism that are sufficiently powerful, balanced, and broad-spectrum to be used alone. However, it is generally combined with other tonic herbs in formulations designed to build the yin and yang of the Kidneys.
As a Kidney tonic, Eucommia is considered an important herb for improving potency in men and fertility in women. It will be found in almost every formula designed for such purposes. Furthermore, Eucommia helps slow down ejaculation.
Eucommia for high blood pressure
Eucommia has been used for over a thousand years to ease tension and relieve the symptoms of high blood pressure and is widely used clinically for hypertension. The ability of Eucommia to safely reduce high blood pressure has been well established by many animal and human clinical studies. Eucommia was found to contain hypotensive compounds in 1974 at the University of Wisconsin; hypotensive compounds exist in both the bark and leaves. It may be used along with conventional Western drugs if desired, as it is in Asia, since Eucommia is very mild and has no known negative interactions with drugs or adverse side effects.
The hypotensive action of the herb has been investigated in several large clinical studies. Although the blood-pressure-reducing effects of Eucommia are not as powerful or quick as the effects of reserpine, Eucommia is more effective in reducing the symptoms of high blood pressure. Eucommia has also been shown to have a mild diuretic action.
Eucommia for the immune system
Decoctions of this herb have been shown to have powerful effects on the immune systems of various laboratory animals. In particular, it appears that Eucommia significantly enhances phagocytic action. Phagocytosis involves the clearing away of foreign material from the bloodstream by the white blood cells. In this particular action, Eucommia proved to be as powerful as Astragalus and Codonopsis, which have been proved to have powerful immunological activity in animals and humans. Many studies have shown that Eucommia potentiates the immunologic functions of the body.
Source: The Ancient Wisdom Of The Chinese Tonic Herbs, Ron Teeguarden, Warner Books
This premium Eucommia extract powder is concentrated 10 times. Information about the difference between extract powder and regular powder can be found here.
Directions:
1 x TL daily (approx. 1 g) in smoothies, cocoa, tea, cereals, etc.
Ingredients :
100% Eucommia ulmoides extract powder, concentrated 10 times . Without additives and fillers. Gluten free, lactose free, vegan.
Content per dosage:
Eucommia extract 2 g
corresponds to pure powder 20 g (-% *)
* Nutrient reference value not evaluated according to EU regulation.
Instructions:
Dietary supplements are not a substitute for a balanced diet and a healthy lifestyle. The stated amount of consumption must not be exceeded. Keep cool, dry and out of the reach of children!