HEAVY METAL DETOX SET COMPLETE
WITH Blueberry powder – the Basic Set without Blueberry powder is available here.

> According to the recipe of the world-famous "Medical Medium" Anthony William
> The power package for the dissipation of toxic heavy metals
> All Key Ingredients for the Heavy Metal Detox Smoothie
> Enough for about 1 month
> Easy to take: single or combined, e.g. in a smoothie
> Premium Biological Quality
In the modern world, the accumulation of heavy metals and other toxins along with inherited mercury deposits is inevitable – that's the bad news. The good news is that it's relatively easy to get rid of the heavy metals you may have already accumulated (both intergenerational and recent), and that you can take action to minimize your future load. Adding the following All-Star team of five foods to your diet and careful efforts to consume them daily will make a significant contribution to riding your body of heavy metals: coriander, wild blueberries, spirulina, barley grass juice powder and dulse.
The set contains all the key ingredients for the popular "Heavy Metal Detox Smoothie" according to Anthony William:
• 1x Hawaiian Spirulina Powder 220g
• 1x Barley grass juice powder Organic 100g
• 2x Dulse flakes organic 125g
• 4x Wild Blueberry Powder Organic 100g
You can either integrate the individual components individually into your diet plan (tips below) or – like us – all together in the equally powerful and delicious Heavy Metal Detox Smoothie by Anthony William!
Recipe: Heavy Metal Detox Smoothie
Makes 1 serving
2 bananas
4 tsp wild blueberry powder (or 2 cups frozen wild blueberries)
1 cup coriander leaves
1 tsp barley grass juice powder
1 tsp Spirulina powder from Hawaii
1 tbsp Dulse flakes (Atlantic rag tang)
Juice of 1 Orange
1 cup water
Process all ingredients (except water) in the blender to a smooth mass, then pour in water to the desired consistency.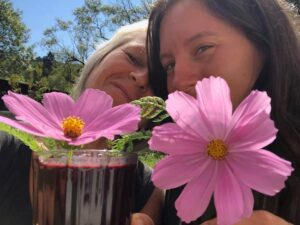 Of course, you can also incorporate the individual components into your diet plan:
• The wild blueberry powder goes well in muesli, coconut yoghurt or fruit salad.
• Barley grass juice powder also tastes in orange juice or water.
• Spirulina powder is also a good addition to juices and powershakes.
• Dulse flakes refine salads, soups and Asian dishes.
Our tip: The Heavy Metal Detox Smoothie also tastes awesome as a smoothie bowl! Simply add a little less water when mixing, pour into a nice bowl and serve with toppings as desired 🙂 <3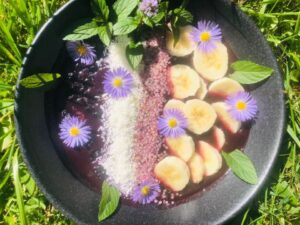 ---
Heavy Metals and their role in diseases
Excerpt from "Medical Food"" by Anthony William
"Toxic heavy metals are the cause of some of today's most common health problems: ADHD, autism, Alzheimer's, infertility, Crohn's disease, ulcerative colitis, depression, anxiety, cancer, seizures and more. These metals are also fuel for viruses and it is these viruses that are today the unknown cause of so many chronic mysterious diseases.
Lead, mercury, copper, cadmium, nickel, arsenic and aluminium can accumulate in the body and lead to disease. When was the last time you used aluminium foil? Or maybe you live in a house with copper pipes. Or you can walk regularly through a park that has been treated with pesticides (which often contain toxic heavy metals). Potential burden is everywhere and sometimes inevitable; it even falls from the sky in fumes. In some cases, the heavy metals in our cells have nothing to do with the stress in our daily lives. Mercury, the most treacherous of the toxic heavy metals, can easily settle for millennia in a bloodline that is passed down from generation to generation, intensifying. So the mercury in a child's midline channel, which causes their autistic symptoms, may have been absorbed 3,000 years ago – and are now causing more problems than ever before. Or if the inherited mercury has a different position in the brain, it can cause depression instead. We are not just dealing with the current burden. We are dealing with old toxins.
These heavy metals are poisons in themselves. However, they also tend to oxidise and cause even more problems, such as toxic outflow that damages every tissue on its way. When heavy metals are present anywhere in the body, they reduce general immunity and act as fuel for viruses and bacteria. "
---
The Heavy Metal Detox Set in detail:
WILD BLUEBERRY POWDER

Blueberries pull heavy metals out of the brain tissue and heal and repair all the gaps created by oxidation, when the heavy metals are removed. It is important to use wild blueberries as they contain unique phytonutrients with special detoxification abilities. The powerful antioxidants in wild blueberries help to undo all the oxidative damage caused by the removal of heavy metals. This is especially important for brain tissue: in fact, wild blueberries are the strongest food to stop or, in some cases, reverse Alzheimer's and dementia. Frozen wild blueberries are often found in the freezer area of supermarkets – but also at the Dancing Shiva store (ask at the checkout afterwards). Eat at least one cup a day.
Note: Although cultivated blueberries are nutritious, they lack the ability of wild blueberries to bind heavy metals. If you can't find frozen wild blueberries, our pure wild blueberry powder is the best (and usually cheaper) alternative. Due to the gentle sun drying, all valuable nutrients are preserved.
HAWAIIAN SPIRULINA
This edible blue algae removes and binds heavy metals into the brain, central nervous system and liver and also absorbs heavy metals, dissolved with barley grass juice powder.
Take 1-2 teaspoons over the Heavy Metal Detox Smoothie or mixed in water, coconut water or juice to you.
BARLEY GRASS JUICE POWDER

This nutritious, naturally gluten-free green wonder can make heavy metals of spleen, Intestines, pancreas, thyroid gland and reproductive system. The powder of barley grass juice prepares the dissolved mercury for full binding by spirulina.
Take 1-2 teaspoons over the Heavy Metal Detox Smoothie or mixed in water, coconut water or juice to you.
ATLANTIC DULSE

In addition to mercury, this edible seaweed binds lead, Aluminium, copper, cadmium and nickel. Unlike other seaweeds, Dulse is able to remove mercury on its own. Dulse penetrates deep, hidden areas of the digestive tract, searches for mercury, binds to it and no longer releases it until it leaves the body. Eat 1-2 tablespoons dulse daily in smoothies, soups, salads or Asian dishes.
Note: If you are concerned that Dulse may contain mercury itself, please keep in mind that Dulse does not release mercury, even if it contains it itself. She holds the mercury as she works her way through the body, while also binding other heavy metals on her way. Dulse is an important part of the team as she is near the finish line (d. our colon) and waits for the other foods that have settled on heavy metals along the way. It serves as an emergency backup to ensure that all heavy metals that have made it to the colon actually leave the body.
---
The nutritional values and further information of the individual components can be found on the respective product page:
Wild blueberry powder organic
Hawaiian Spirulina Powder
Barley grass juice powder organic
Dulse Flakes organic
---
Notes:
Dietary supplements are not a substitute for a balanced diet and a healthy lifestyle. The indicated intake must not be exceeded. Keep cool, dry and out of reach of children! He