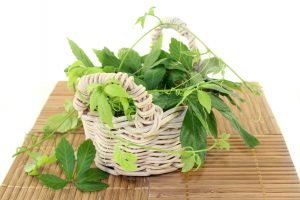 JIAOGULAN EXTRACT POWDER 10:1 – 50g refill bag

This product is also available in a glass jar.
Gynostemma pentaphyllum | Herb of Immortality
RELAX | BALANCE | ANTI-STRESS

Jiaogulan is known in Asia as Gynostemma or "herb of immortality", which was discovered in 1972 by Japanese scientists, as a province in the south of China especially healthy 80- and 90-year-old people harbored. The commonality of all over 80's in this area was that they consumed the "magical grass" as they called Jiaogulan almost daily in the form of tea.
The easily cultivable herb in this country is the best-researched adaptogenic plant of our planet. It contains 86 different highly effective substances (saponins), which is twice as high as in high quality ginseng.
Please note that jiaogulan is not authorized as food in the EU according to the Novel Food Regulation and may only be sold as an incense or bath additive. Read more here.
Our Premium Jiaogulan Extract is 10-times concentrated.

Application:
For use as a bath additive or incense. *
Ingredients :
100% Jiaogulan Extract (Gynostemma pentaphyllum) Powder, 10-times concentrated (10:1), China. Without additives and fillers. Gluten free, lactose free, vegan.
* Legal Disclaimer:
Due to the current food labeling law, we are unfortunately not allowed to make specific statements on the effect and possible health benefits of this product. Although this product has been used traditionally for a long time, we are not allowed to share our knowledge about it with you, sorry we are.
As a mature consumer, however, you have the ability to independently research books and the Internet about this product. See links for a list of selected information pages and textbooks on the topic. Thank you very much for your understanding!