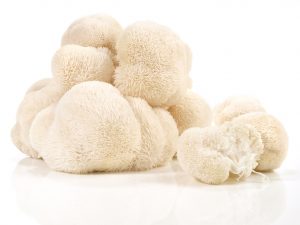 LION´S MANE EXTRACT POWDER 20:1 – 50g refill bag

This product is also available in a glass jar.
Hericium erinaceus
BRAIN | BELLY | STRESS | IMMUNITY

A medicinal mushroom not only known for its excellent aroma, but also for its positive effect on the body. Its icicle-like growth and its creamy white to slightly pink color make it a real sensation. The fungus is cultivated either on hardwood (eg beech, birch, oak) or on finished substrate. In Asian cuisine, it is considered a delicacy.
Even the natives of North America used the fungus as a hemostatic agent for cuts. He also has a positive effect on stomach and intestinal diseases and nervous diseases.
A variety of research is focused on the ingredients of the Hericium. The fungus contains all eight essential amino acids that humans need. He also has a high potassium content and other important ingredients such as zinc, iron, selenium and organic germanium. The contained polysaccharides and polypeptides are the center of research on the hericium. It has been proven that the general strengthening of the immune system and the increased body's defense against antigens. The fungus has a stimulating effect on the regeneration of nerve tissue. Extracts of the fungus are therefore used concomitantly in the treatment of Alzheimer's and Parkinson's.
Brief overview of the areas of application of Hericium (Lion's Mane):
• stomach and intestinal problems (inflammatory, functional)
• Cancer prevention, especially for gastrointestinal, esophageal and skin cancer
• nervous diseases
• anxiety, depression
• inner restlessness, insomnia
• Immunomodulation
• chronic skin diseases
Source: "mushrooms to grow", Magdalena und Herbert Wurth, Löwenzahn Verlag
This premium Hericium extract powder is concentrated 20 times. Information about the difference between extract powder and normal powder you find here.
Recommended dosage:
1x daily 1 level TL (about 1.5 g) take in smoothies, cocoa, tea, cereal, etc.
ingredients:
100% Hericium erinaceus extract powder, 20x concentrated (20: 1) . Without additives and fillers. Gluten free, lactose free, vegan.
Content per dosage:
Hericium extract 1 g
corresponds to pure powder 20 g (-% *)
* Nutrient reference value not evaluated according to EU regulation.
Disclaimer
Dietary supplements are not a substitute for a balanced diet and a healthy lifestyle. The stated amount of consumption must not be exceeded. Keep cool, dry and out of the reach of children!