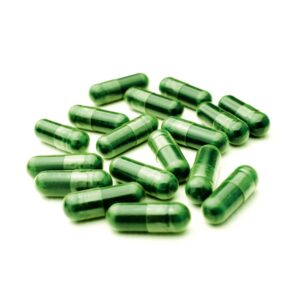 MARINE PHYTOPLANKTON CAPSULES

Controlled premium quality
PRIMORDIAL SUPERFOOD

The numerous valuable nutrients in marine phytoplankton have a particularly high bioavailability.
They are absorbed directly into the bloodstream via the mucous membranes and can therefore be recycled to 99%. *
Find out more
:
For an estimated three billion years, marine phytoplankton supports practically all marine life and thus all life on land. Marine phytoplankton accounts for about a quarter of all vegetation (land and water) and is responsible for an estimated 90% of the oxygen in the air we breathe, according to NASA. Phytoplankton produces more oxygen than all the Earth's forests together!
Research suggests that marine phytoplankton could be the most important food in the world – not only because of its nutritional content but also because it is food for everything on Earth – these organisms represent the original meaning of "food".
One of nature's great ironies is that unicellular marine phytoplankton (the world's smallest plant organism) feeds and feeds nature's largest animal – the gigantic blue whale. The blue whale is the largest mammal that has ever lived and can weigh up to 200 tons. This king of the oceans feeds exclusively on marine phytoplankton and certain types of krill (krill, in turn, only eats phytoplankton). Whales have the largest brains and the healthiest nervous systems of any mammalian family and their lifespan ranges from 80 to 150 years. And many of them remain sexually active until death.
Marine phytoplankton also produces more sulfur than all of the Earth's life forms – including by-products of sulfur (DMSP and DMS). When they evaporate over the ocean, clouds form over the phytoplankton, protecting it from excessive sun exposure. When such clouds form, phytoplankton slows or stops its sulfur production. This closed-loop reaction is very likely the basis of global weather systems. Subsequent rain spreads this bioavailable sulfur all over the world and passes it on to all land plants and animals.
Marine phytoplankton contains a unique and extraordinary combination of vital nutrients, including omega-3 fatty acids (including docosahexanoic acid or DHA), nucleotides, DNA, RNA, proteins, chlorophyll, vitamins, minerals, trace elements and polysaccharides.
Probably the biggest peculiarity of phytoplankton: It is almost 100% utilizable for the human body. When you eat it, not a single part of it is wasted, because the microscopic particles are absorbed directly through the mucous membranes and leave out the actual digestive tract. This is really amazing, because even the healthiest foods contain less than 50% absorbable and available nutrients. *
Recommended dosage:
Take 1 – 2 times daily 3 capsules (= 1.5 g) with plenty of water with meals.
Marine phytoplankton for human consumption is grown in closed ponds that reproduce the natural marine environment under controlled conditions without the risks of breeding in the open sea (pollution, weather fluctuations, shipping, poor quality control, etc.).
Combine marine phytoplankton with coconut oil for enhanced effects and improved absorption of omega-3 fatty acids. Once you have experimented with marine phytoplankton for a few days, you will notice how powerful the energizing effects of this superfood can be.
Warning : Like almost all microalgae, marine phytoplankton contains significant amounts of vitamin K, which has been proven in trials to interfere with blood-thinning medications.
Average nutritional value per 100g:
Energy 1638 kJ / 391 kcal
Fat 18.2 g
of it ges. Fatty acids 4.3 g
Carbohydrates 7.2 g
of which sugar is 1.1 g
Protein 42.6 g
Salt 1.4 g
Omega 3 fatty acids (- * NRV) 5.0 g
* Nutrient reference value (reference quantities according to EU regulation) not evaluated.
Composition:
100% Marine phytoplankton powder from controlled pelvic breeding / Netherlands, vegan capsule capsules made from cellulose. Freeze-dried. Residue controls, no additives, vegan, gluten free.
Notice:
Dietary supplements are not a substitute for a balanced diet and a healthy lifestyle. The stated amount of consumption must not be exceeded. Keep cool, dry and out of the reach of children!
* Legal Disclaimer:
Due to the current food labeling law, we are unfortunately not allowed to make specific statements on the effect and possible health benefits of this product. Although this product has been traditionally used for a long time, we must not share our knowledge with you, sorry we are.
However, as a mature consumer, you have the option of independently researching this product in books and the internet. See links for a list of selected informational pages and textbooks. Thank you very much for your understanding!