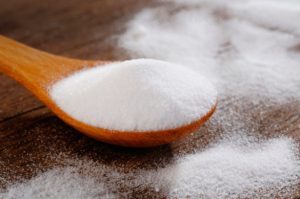 MSM POWDER 125g
DETOX | BEAUTY | ANTI-INFLAMMATORY

MSM (methylsulfonylmethane) is an organic sulfur compound formed by the oxidation of DMSO. This process takes place in the oceans and is triggered by microscopic plankton. MSM is one of the most effective detoxifying agents in the body – it locks in the cells and expels toxins.
MSM is also said to help with inflammatory processes of the musculoskeletal system (arthritis, gout, …) and alleviate pain. Due to its positive effect on connective tissue and skin elasticity, hair and nails it is also called the "beauty mineral". MSM also acts as a carrier for other nutrients and makes them easier to use for the body.
Of course, MSM occurs in the atmosphere and in plants. Although many manufacturers repeatedly praise MSM from plant sources, a commercial extraction of plant material is not possible – but the concentration of MSM in the material is too low. MSM powder is synthesized under laboratory conditions and is identical in its mode of action and molecular structure to naturally occurring in the atmosphere MSM.
It is odorless, slightly bitter and is dissolved in water and drunk. When taking a dose, ensure adequate hydration. *
Recommended dosage:
1 pinch (500mg) in water, juice or smoothies 2x daily and drink. If necessary, increase the dose to 1 teaspoon (5g each) once a day. Ensure adequate hydration.
Ingredients : 100% MSM powder, free of additives, preservatives and fillers / UK.
Content per dosage:
MSM Powder 500 mg (NRV – *)
* Nutrient reference value not evaluated according to EU regulation.
Notice:
Dietary supplements are not a substitute for a balanced diet and a healthy lifestyle. The stated amount of consumption must not be exceeded. Keep cool, dry and out of the reach of children!
* Legal Disclaimer:
Due to the current food labeling law, we are unfortunately not allowed to make specific statements on the effect and possible health benefits of this product. Although this product has been traditionally used for a long time, we must not share our knowledge with you, sorry we are.
However, as a mature consumer, you have the option of independently researching this product in books and the internet. See links for a list of selected informational pages and textbooks. Thank you very much for your understanding!