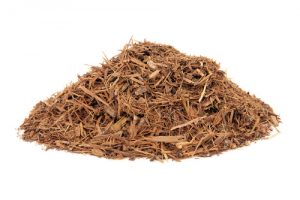 MUIRA PUAMA EXTRACT POWDER 20:1

Ptychopetalum olacoides | Potenzholz
POWER | PERFORMANCE | LIBIDO

Muira Puama – also known as "potency wood" – comes from South America and enjoys in the shamanic tradition there the reputation of an aphrodisiac for men and women. Muira Puama also has adaptogenic properties, which has a positive effect on the physical and psychological response to stress factors.
This premium Muira Puama Extract Powder is 20x concentrated. Information about the difference between extract powder and regular powder can be found here.
Directions:
1x daily 1 level TSp (about 1.5 g) add in smoothies, cocoa, tea, cereal, etc. Not suitable during pregnancy and lactation.
Ingredients :
100% Muira Puama (Ptychopetalum olacoides) extract powder, 20x concentrated (20: 1) . Without additives and fillers. Gluten free, lactose free, vegan.
Content per dosage:
Muira Puama Extract 1.5g
corresponds to pure powder 15 g (-% *)
* Nutrient reference value not evaluated according to EU regulation.
Notice:
Dietary supplements are not a substitute for a balanced diet and a healthy lifestyle. The stated amount of consumption must not be exceeded. Keep cool, dry and out of the reach of children!