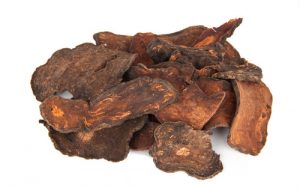 ORGANIC HE SHOU WU POWDER 125g

Polygonum multiflorum | Fo-ti
HAIR | KIDNEYS | ANTI-AGE

He Shou Wu, also known as "fo-ti" in Chinese herbalism, translates as "the man with the black hair". It is used as a rejuvenating and toning agent in traditional Chinese medicine. It is said to have a vitalizing and detoxifying effect, support the immune system, liver and kidneys, promote hair growth and a fulfilling sex life. The root is traditionally boiled in a brew of black beans. *
Recommended dosage:
1x daily 1 level TL (about 1 g) in smoothies, cocoa, tea, cereal, etc. take. He Shou Wu goes well with Rehmannia, Schisandra, Reishi and Rhodiola. Do not use during pregnancy and lactation.
Ingredients : 100% He Shou Wu (Polygonum multiflorum) extract powder, concentrated 20 times. Without additives and fillers. Gluten free, lactose free, vegan.
Content per dosage:
He Shou Wu Extract 1 g (-% *)
corresponds to raw material 20 g (-% *)
* Nutrient reference value not evaluated according to EU regulation.
Instructions:
Dietary supplements are not a substitute for a balanced diet and a healthy lifestyle. The stated amount of consumption must not be exceeded. Keep cool, dry and out of the reach of children!
* Legal Disclaimer:
Due to the current food labeling law, we are unfortunately not allowed to make specific statements on the effect and possible health benefits of this product. Although this product has been traditionally used for a long time, we must not share our knowledge with you, sorry we are.
However, as a mature consumer, you have the option of independently researching this product in books and the internet. See links for a list of selected informational pages and textbooks. Thank you very much for your understanding!