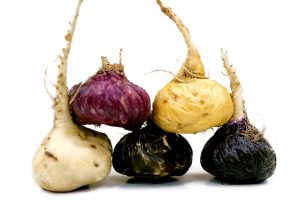 PREMIUM MACA 6:1 CAPSULES 120 Pcs. 500 mg, RAW FOOD QUALITY
Power & amp; Love root from the Andes
ENERGY | LIBIDO | MOOD
The robust Maca root from the Peruvian Andes was already known to the Inca and is one of the most important adaptogens. The premium maca powder in these capsules consists of 85% of the particularly rich in vital substances black maca roots and is obtained by cold water gelatinization: The maca roots are placed over several days in water and placed in the sun. This process deprives the roots of much of their starch content and thus allows a much easier digestible and recyclable end product with high active ingredient density in raw food quality. The roots used are selected according to the highest quality criteria. It mainly uses the black and red macaw roots, whose nutrient and vital substance content is much higher than that of the more commonly available yellow maca roots.
The indication "6: 1" stands for the active ingredient ratio between normal Maca powder and Premium Maca powder – this premium Maca powder is 6x stronger than the normal Maca powder.
Find out more :
The maca root has been grown in the Peruvian Andes of South America at 2700 to 4300 meters above sea level for about 2600 years, making Maca the highest crop in the world. Maca thrives not only above the tree line, but even beyond the grass border in barren, inhospitable areas with high solar radiation and daytime temperature fluctuations of up to 28 ° C (!). These extreme growth conditions give Maca its adaptogenic and restorative properties. Maca was so much revered by both the Incas and the Spaniards that it was used as a currency and for tribute payments during the Spanish conquest of the Inca Empire.
Maca's reputation as a powerful rejuvenator and libido-enhancing superfood goes way back in human history. Maca has been used medicinally for centuries as a fertility drug for humans and animals. According to legend, the warriors of the Inca Maca consumed to prepare for battles and make them grim and strong. Once a city was taken, the warriors were again prohibited from eating maca to protect the local women from the excessive sexual desire of men.
Recommended dosage:
3 – 6 capsules daily (equivalent to Maca 6: 1 powder 1,5g – 3g)
Composition :
100% Maca 6: 1 powder * (85% black maca, 15% red maca, 5% yellow maca) (500mg / capsule), herbal capsules (HPMC) (100mg / capsule) *. * = from certified organic farming.
Raw food quality, gluten free, gelatin free, vegan.
Notice:
Dietary supplements are not a substitute for a balanced diet and a healthy lifestyle. The stated amount of consumption must not be exceeded. Keep cool, dry and out of the reach of children!
* Legal Disclaimer:
Due to the current food labeling law, we are unfortunately not allowed to make specific statements on the effect and possible health benefits of this product. Although this product has been traditionally used for a long time, we must not share our knowledge with you, sorry we are.
However, as a mature consumer, you have the option of independently researching this product in books and the internet. See links for a list of selected informational pages and textbooks. Thank you very much for your understanding!