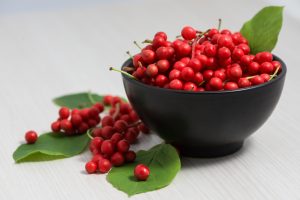 SCHISANDRA BERRIES PREMIUM QUALITY 80g

Schisandra chinensis | The berry of the 5 tastes | Wu Wei Zi
LIVER | LIBIDO | CONCENTRATION

The Schisandra berry is an ancient tonic from Chinese medicine. At the same time it tastes sour, sweet, bitter, spicy and salty, which is why it is nicknamed "Berry of 5 Tastes" (Wu Wei Zi).
As an adaptogen, it has a general balancing effect on the organism and helps to deal better with physical and mental stress factors – in this respect Schisandra seems to be inferior to other adaptogens such as ginseng and rhodiola according to studies. As a nootropic it can, among other things, increase mental capacity, sharpen perception, promote concentration and make you mentally "alert".
In addition, Schisandra is a first-rate liver tonic and can support the liver in the excretion and metabolism of toxins. Schisandra also has an aphrodisiac effect on men and women and helps to refine the sexual energy. In Chinese herbalism, Schisandra is recommended as a beauty tonic for beautiful skin and radiant eyes, and is often used with goji berries and aloe vera.
These Schisandra berries are a real stroke of luck – the best we've ever had! Deep red, soft and taste not as extreme as the berries normally available … real premium quality!
Directions for use:
Take 1 teaspoon daily in smoothies or pure. The berries can also be infused with hot water and enjoyed like a tea (let it rest for 10 minutes).
Nicht während der Schwangerschaft einnehmen!
ingredients:
100% Schisandra chinensis berries in premium quality. Gluten free, lactose free, vegan.
100g contain on average:
Energy 454 kJ / 108 kcal
Fat 4.5 g
of it ges. Fatty acids 0.9 g
Carbohydrates 13 g
of which sugar 4.2 g
Protein 3.9 g
Salt 0.2 g
Notice:
Dietary supplements are not a substitute for a balanced diet and a healthy lifestyle. The specified amount of consumption must not be exceeded. Keep cool, dry and out of the reach of children!